In this blog entry I am going to give you an introduction to the Hit Of The Week Record series made by
the Durium Products Corporation.

As a matter of fact, this line of records debuted on the market 85 years ago this month. The records were sold on newsstands from February of 1930 until June of 1932. The
Hit Of The Week

records can certainly be considered Great Depression artifacts as they were issued during The Depression and because of The Depression. The records were initially sold for fifteen cents ($0.15) and were later sold for twenty cents ($0.20).
The records were made of paper and resin. They are flexible when toyed with.
Due to hot and humid storage conditions, specimens have been discovered stuck together. The overheated and melting resin causes this unfortunate phenomenon.

At first, each record featured one song and then, beginning in August of 1931, each record featured two songs.
The labels show some differences in part due to the extra song and the reverse of the records are different as well. Examples are found with photographs of the artists performing on the songs.

Some records included an advertisement reminding listeners that a new record would be on sale at newsstands on the following Thursday. The records were shipped in rice paper sleeves ... the vast majority of which perished or were discarded. Copies of the Hit Of The Week Records reached a peak of 500,000 sales per week and dwindled to 60,000. This forced the company to cease production on the line.
The records that you see in this blog entry were purchased at the Surround Sound Productions event at the Merchants Square Mall in Allentown, Pennsylvania in September of last year. If you are looking for 78 rpm records, I definitely recommend this convention.
Finally, I wanted to point out that these records truly sound incredible given the fact that they are merely paper and resin. I will be posting a romantic one for the Valentine Season in my February 11, 2015 blog entry.
Here is my pile of records: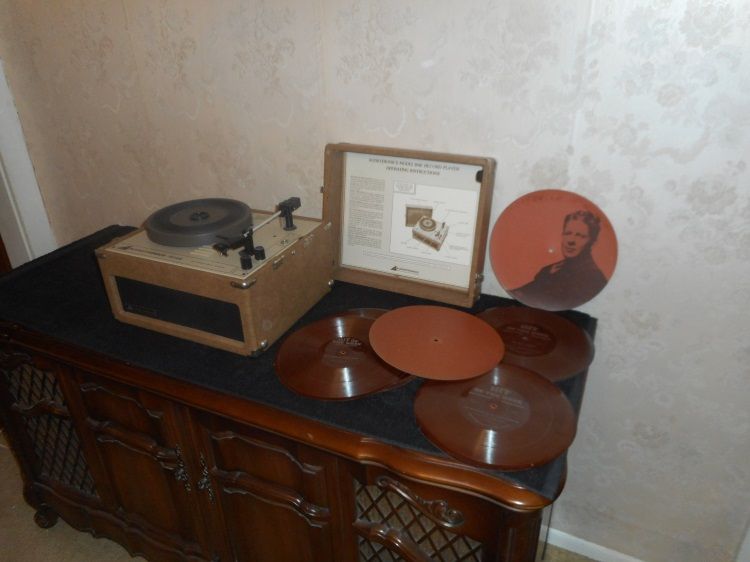 I am going to post more photographs and a video on February 11, 2015.
UPDATE (February 11, 2015): Here are the video and the new pics ...
The url for the above video: https://www.youtube.com/watch?v=ryiKpgU-lxA
The following photos will show you the label variations and the examples with melted resin that I made reference to above (including the record with the Rudy Vallée image - you can see the residue over his head) ...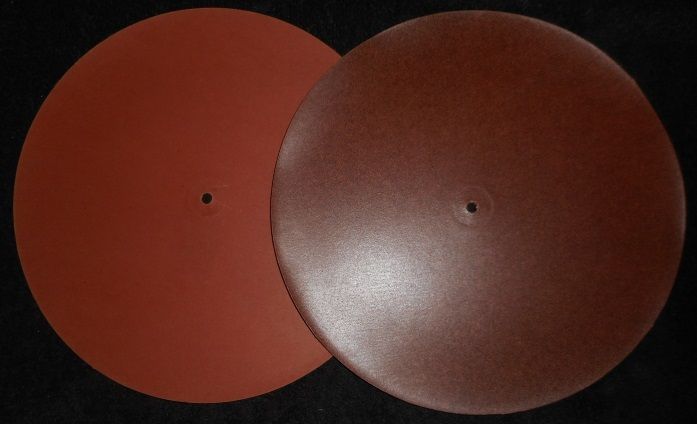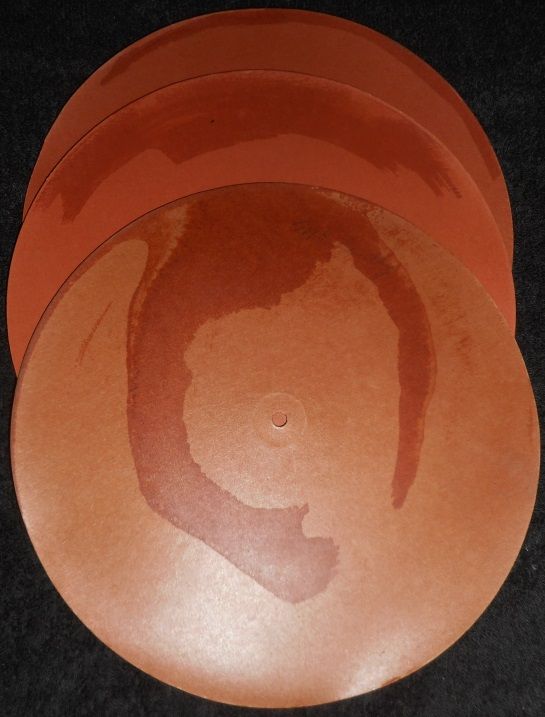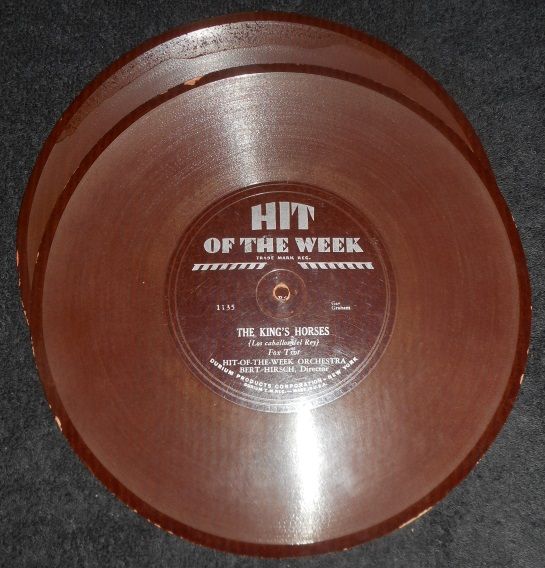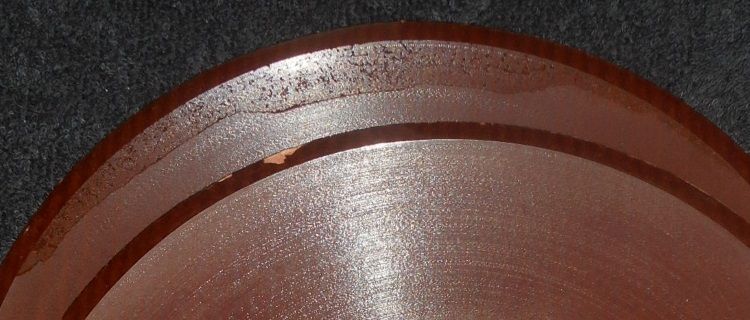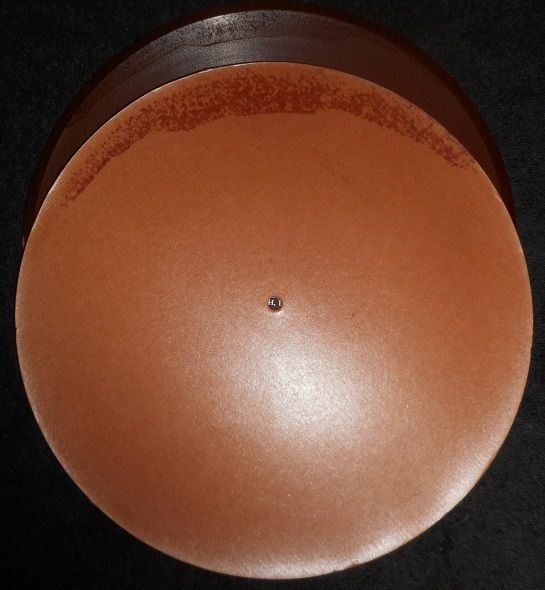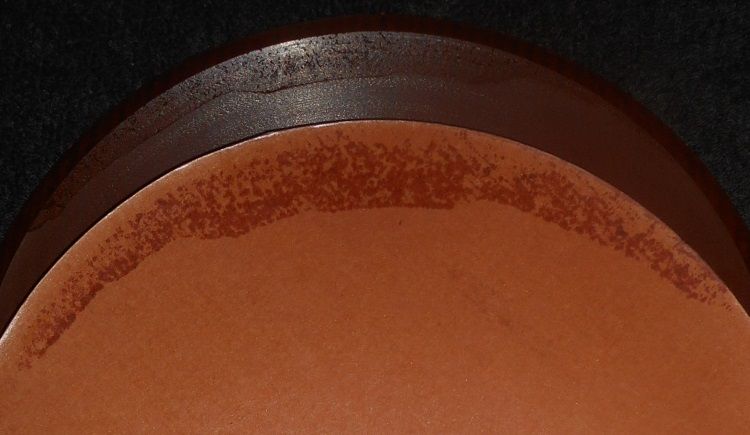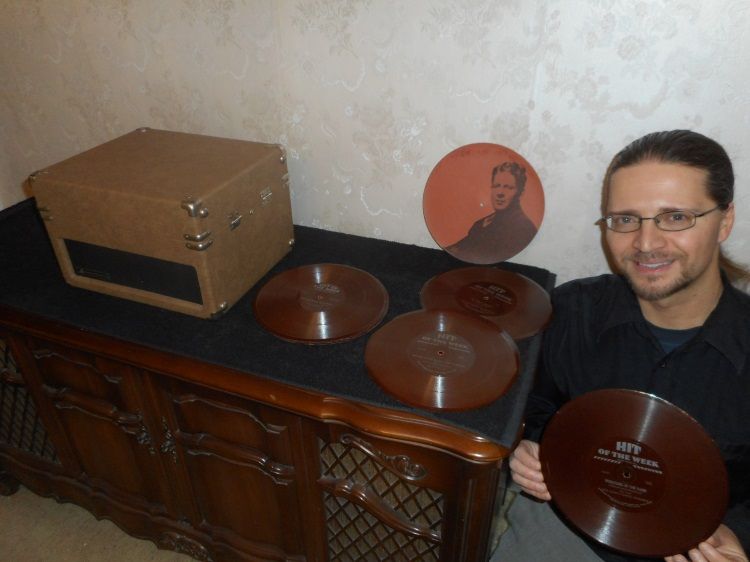 Note: In the video I stated that I will see if the resin on the grooves will affect the playing. It does. The records CANNOT be played when saturated with that melted resin. The records can be played in areas where there is no resin ... making the songs incomplete. This is important to know if making purchases. Records in this condition can only be used as visual aids (in displays, lectures, etc).
This is a fantastic resource (release dates and other information) for Hit Of The Week Records: http://durium.opweb.nl
The Wiki page is fine on this topic: http://en.wikipedia.org/wiki/Hit_of_the_Week_Records