On December 31, 2010, the General Meade Society teamed up with the Laurel Hill Cemetery to celebrate the 195 Birthday Anniversary of George Gordon Meade, the victorious General of the American Civil War's significant and pivotal Battle Of Gettysburg. The day featured reenactors and living historians portraying the roles of Victorian ladies, John Welsh (Minister/Ambassador To Great Britain in the Rutherford Birchard Hayes Administration), General Andrew Atkinson Humphreys (who was involved with the Battle Of Antietam, Battle Of Fredericksburg and Siege Of Petersburg), Union Regiments including the United States Colored Troops and more. What made the day additionally special and unique were the dedication of a headstone for Meade's mother, Margaret Coats Butler Meade (she did not have one to that point believe it or not) and the appearance of a descendant of the General, Major Chuck Meade (a decorated Veteran himself).
About 200 people attended the observance.

Anthony "Andy" Waskie, professor and historian who often portrays George Meade, introduces Major Chuck Meade: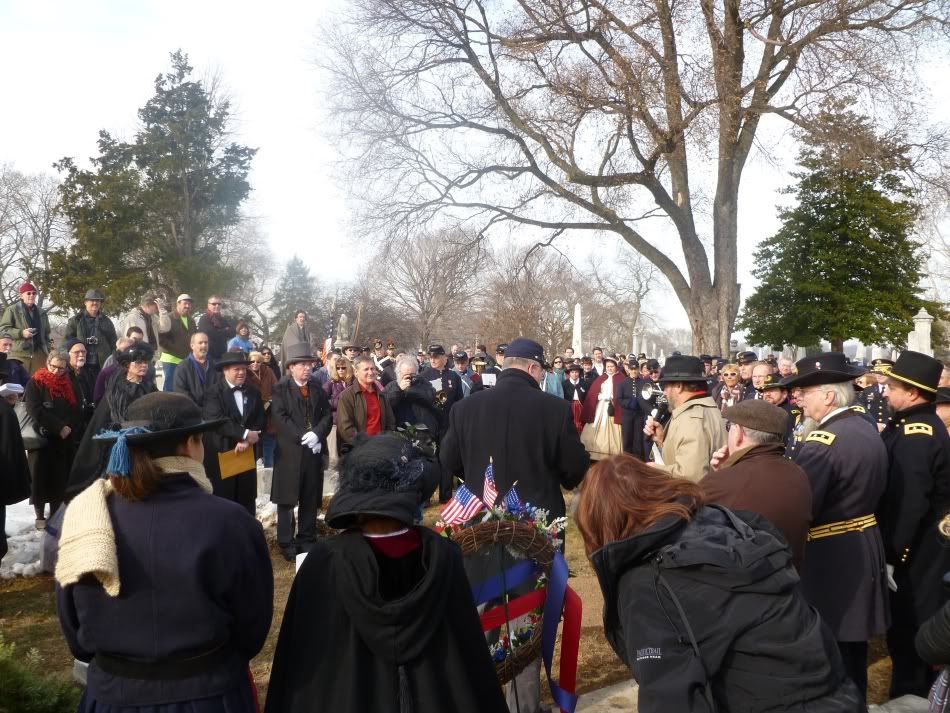 Chuck Meade reading from the Biblical Book Of Proverbs (Chapter 31):

Just prior to the wreath-laying for Margaret Meade:

A video of Chuck Meade speaking as well as the laying of the wreaths (with Anthony Waskie providing direction):

The newly-dedicated headstone:

Falling in line prior to the march to the General's gravesite:

The march to Meade's grave: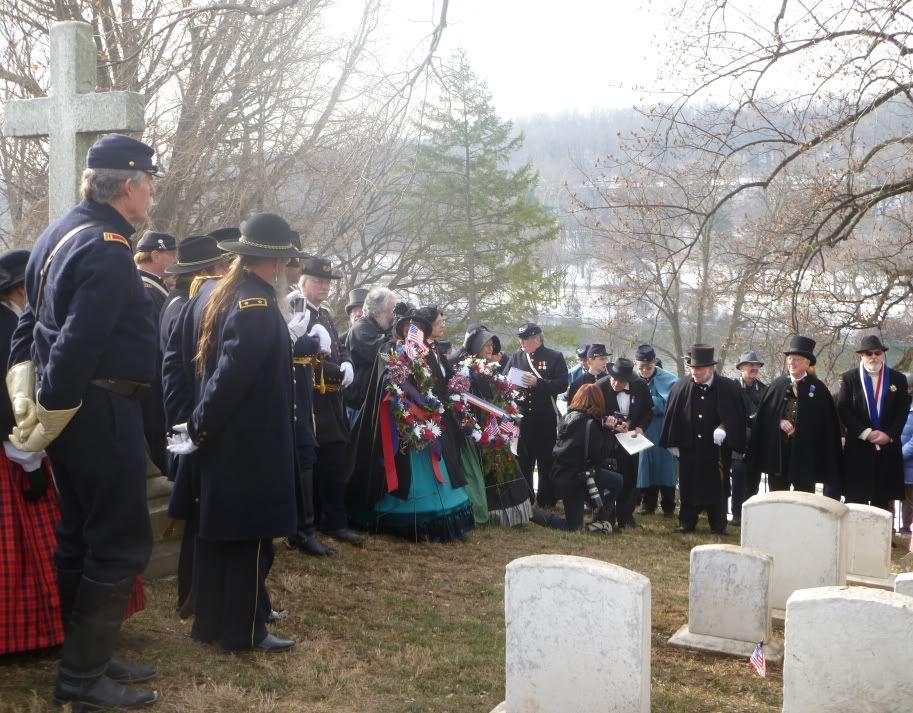 A living historian (named Mike Wunsch) portraying John Welsh is reading a Proclamation sent by Pennsylvania's Governor Ed Rendell:

A video featuring speeches and readings in memory of George Meade (including Jerry McCormick portraying Andrew Humphreys):

Troops awaiting instructions to fire their rifles (a nice shot with the bridges and tombstones in the background):

Firing the rifles:

A video showing the laying of several wreaths for Meade, the customary dropping of rose petals by the Sons Of Union Veterans (a Grand Army Of The Republic ritual performed in the nineteenth century) and a rifle salute closed by a musical piece ... I titled this part "Wreaths, Roses And Rifles":

This portion of the event featured toasts to the General:

Here I am with some of the bubbly (non-alcoholic of course):

Here are a couple shots of Meade's grave. You will note two nineteenth century CDV (carte-de-visite) images of the General placed in front of the gravestone.
I thought it fitting to bring them to the event.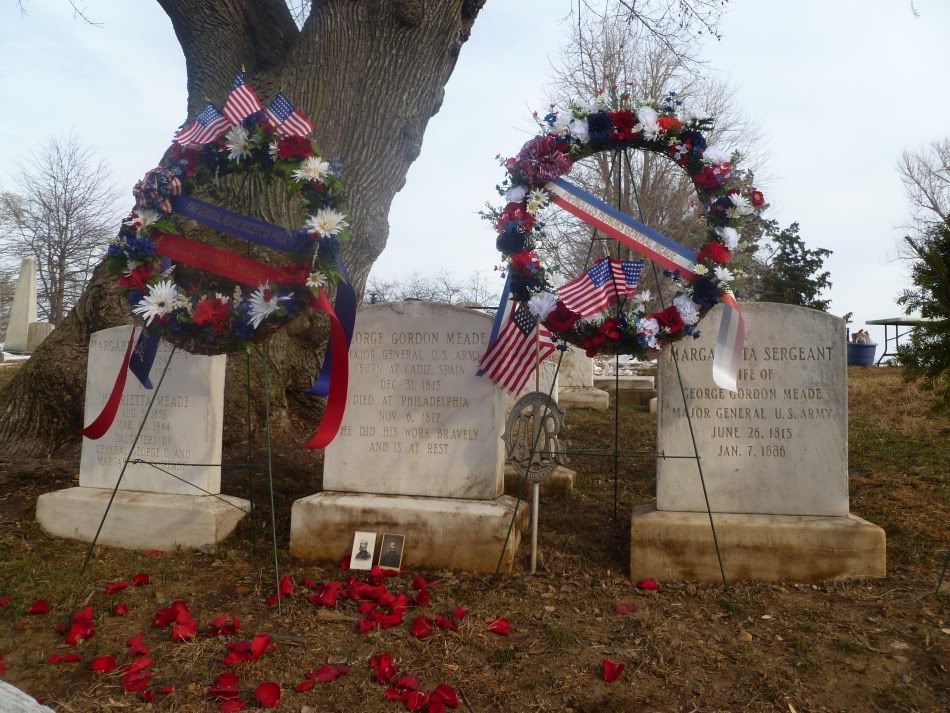 A short video of myself at the grave [my spoken part was recorded twice since I messed up (aka paused too long) on the first try]:

Here is a close-up of the two CDV's (dated circa 1860s or 1870s):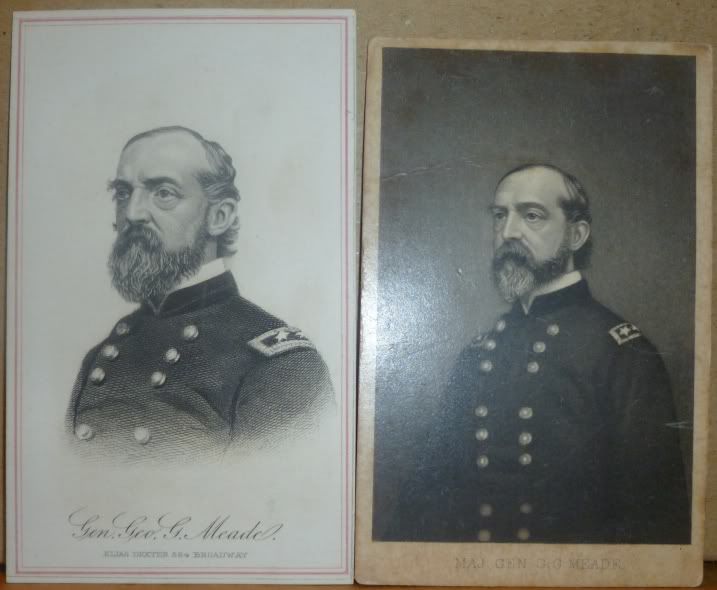 Many more photos of the event can be found at this link -
http://s169.photobucket.com/albums/u213/portaltothepast/Reenactments/Civil%20War/George%20Meade%20Birthday%2012-31-2010/?start=all


Worthy acknowledgement goes to the crew at the Laurel Hill Cemetery for drying the area surrounding General Meade's grave. They did an extraordinary job clearing the snow away!

What a wonderful way to close the year 2010. It was a fine event and I am sure the General would be quite pleased with the sentiment as well as the number of enthusiastic participants and spectators. I heard the ceremony gets increasingly-popular by the year and for those of you interested in attending the Birthday Celebration in 2011, minor details have already been posted at this link - http://thelaurelhillcemetery.org/index.php?m=4&id=82

Here is Newsworks' article on the event: http://www.newsworks.org/index.php/about-us/item/10285-celebrating-a-civil-war-hero-

The General Meade Society's website: http://generalmeadesociety.org
The Laurel Hill Cemetery's website: http://www.thelaurelhillcemetery.org
--------------------------------------------------------------------------------------------