Hi Friends. In honor of the upcoming Valentines Day Holiday, I have for you a very flirty record and it is an old one. It dates to the year 1909, and is titled "A Bowery Flirtation". The Thomas Edison black wax cylinder record will be played on an Edison Standard Phonograph: Model B from 1905/1906. The record was recorded by Ada Jones and Len Spencer (Catalog number: 10082). It is a Vaudeville sketch that leads into a song with Ada singing and an orchestra accompanying her. I brought some old Valentine cards out, and set them near the machine ... very special for this time of the year.
The url for the above video: https://www.youtube.com/watch?v=J0eKaGrNncE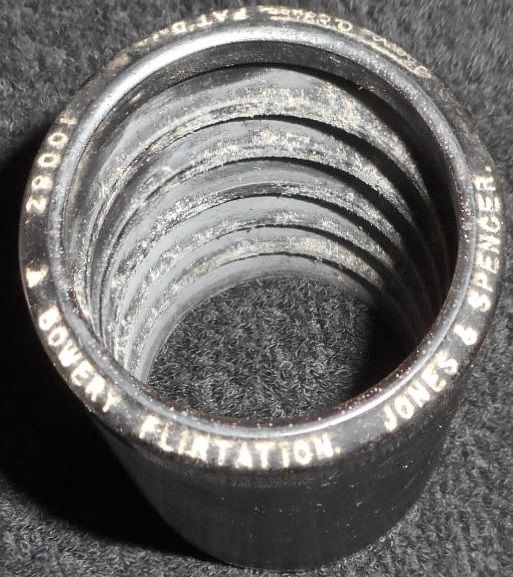 Here are the lyrics (I transcribed them myself ... I did my best):

Len: Hello kid, what's the rush?
Ada: It's 6:00, the rush hour.
Len: Come ere, I want to ask u something.
Ada: What?
Len: Have you noticed anybody follerin' ya lately?
Ada: Nobody particular.
Len: Why Maggie, I'm yer shada, I follows you everywhere an' all it does is run away from me.
Ada: Sure I do. Run away from a shada and it always follows you, but chase it, Timmy, haha, and it's gone fer good.
Len: Well, you can't lose me kid. Tell me, did you ever love anybody?
Ada: Sure I have.
Len: I mean anybody but yourself?
Ada: Oh, like that? So I'm stuck on meself, huh? Well, there's one thing about you, Timmy, that I have to admire.
Len: And that is?
Ada: Yer good taste.
Len: Ho haw, gettin wise to yourserlf, ay? Why Maggie, that swell little mug o' yours is tintyped right on me heart.
Ada: Hahaha, I bet there's a whole gallery of tintypes on that heart of yours.
Len: You got me wrong, kid. Why, I never knew what love was 'til I fell in love with you.
Ada: Ahh, haha. Don't make me laugh, me lips are chapped.
Ada: Why Timmy, so many guys give me that speel that I set it to music.
Len: Is that so?
Ada: Yes, and it goes like this ...
Ada: I never knew what love was 'til I fell in love with you.
Len: Oh kid, nix.
Ada: You won me heart completely with those dreamy eyes of blue. I jollied Maude and Maime ...
Len: No no.
Ada: ... and made eyes at Lil an' Lou ...
Len: I don't know the party.
Ada: ... but I never knew what love was 'til I fell in love with you.
Len: Ah, kid, you's is the only one.
Ada: I don't believe it.
Len: See, ain't that a hit?
Ada: What's a hit?
Len: Ha, that's what they all say, hahahaha.
Ada: Timmy ...
Len: Aww, I didn't mean it kid, hahahahaha.
Ada: Aw, hahahahaha.
Additional information about the record can be found at this link: http://cylinders.library.ucsb.edu/search.php?queryType=@attr+1=1020&num=1&start=1&query=cylinder3530