I travelled to Manhattan, New York to show my support to the brave and steadfast Protesters in Egypt. It was a two-hour commute one way, but it was well worth the trek as this was an important event. You may have seen my blog entry from January 28 which featured the Freedom For Egypt Rally in Jersey City. The reasons why I am involved with this activism are discussed in depth at http://michaeltheresearcher.blogspot.com/2011/01/freedom-for-egypt-rally-held-in-jersey.html

As for the Rally on January 31, I arrived when it was just getting dark so the photographs are dark, but I still feel they turned out well. Some are of the Protesters, some feature myself near the crowd and others are with some Egyptian-Arabs who braved the cold to support the Freedom Fighters in Egypt.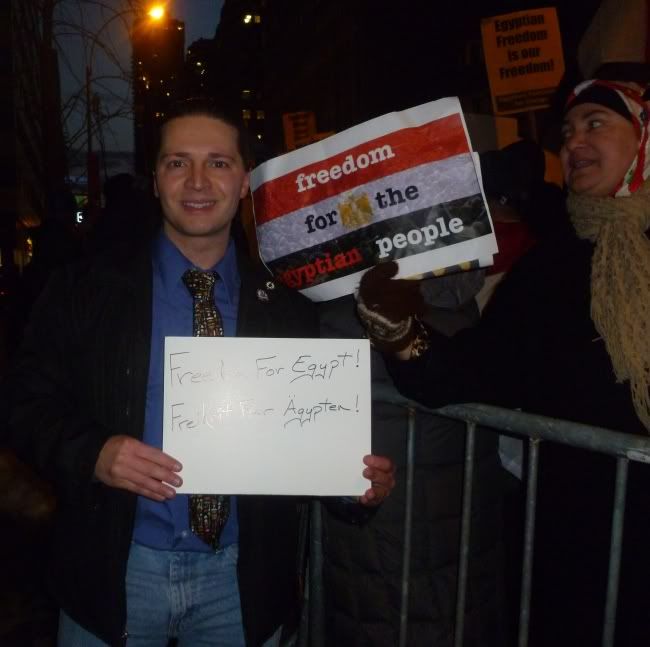 Here I am next to a very nice young woman who actually lives in Egypt. As you can see, her sign features the symbols of Islam and Christianity with the phrase "The Revolution of all EGYPTIANS". She and I spoke for a little while during and after the Rally.

This video features my brief introduction, two scenes from the Rally, my parting words and finally the signs, Hieroglyphs tie and Aset/Isis necklace I brought with me. As you can see, I am giving a toast to all of the world's Freedom Fighters and Supporters!


The url for the above video: http://www.youtube.com/watch?v=xNXKCSegP1Q

The Egyptian Association For Change hosted the Rally. Their website is: http://eacusa.org

This matter has the attention of the entire world, but we need to do more. All acknowledgement should lead to some activism and this is why I was present ... I wanted the Egyptian people to know someone across the globe is standing in solidarity with them. Solidarity With The People Of Egypt!