I joined a facebook group that promotes the rights of women in the Arab World. As I scrolled down its "Wall", I noticed a link for a blog promoting a very unique campaign where people could stand in solidarity with Aliaa Magda Elmahdy [the Arab-Egyptian Woman whom I recently blogged about (http://michaeltheresearcher.blogspot.com/2011/11/i-support-aliaa-magda-elmahdy.html)]. To participate, a person would take the naked photograph of Aliaa and superimpose her (or his!!) face over Aliaa's face. The superimposed jpeg would then be part of a montage. I thought it was a great idea and I was very interested in participating. I e-mailed my photograph to the blogger (Note: at the time of this blog post, it was not posted on the blog) and shortly after decided to make the nude photograph (her body with my face!) as my default picture on facebook.

Here is the photo [censored (believe me, I do not want to censor this)]:


I had the nude photo as my default for a number of hours with no problems. The next time I logged in (Sunday morning at around 1:00 AM), facebook informed me that they deleted the photo because it violated the website's "Statement of Rights and Responsibilities". I initially uploaded the photo to a folder and then made it my default and that copy of the photo was still in that folder. I was fine with that and planned on quietly keeping the photo in the folder. I had no intention of making it my default again.

Screen shot of facebook's message to me (again, censored):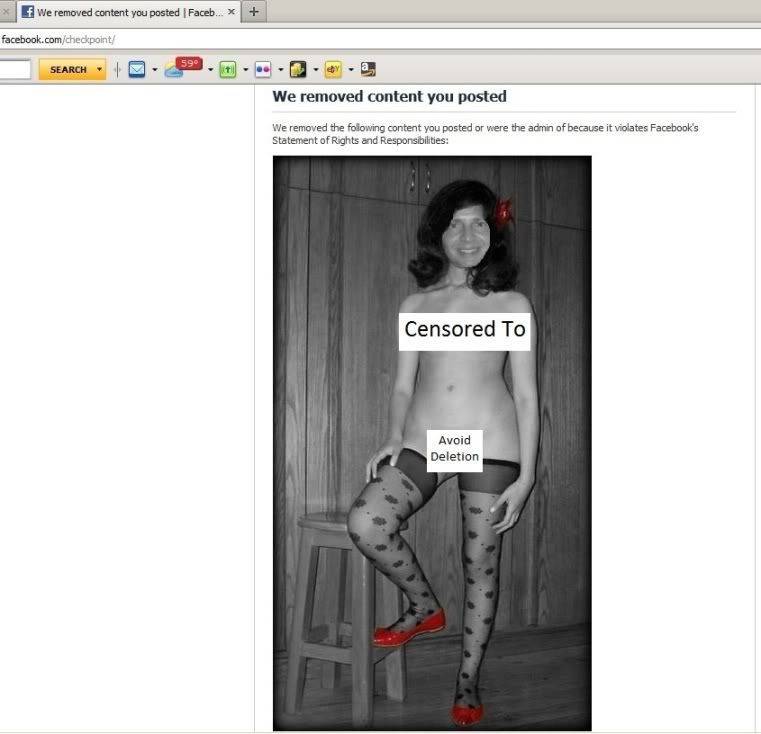 I logged out and went to sleep. I woke up around 11:30 AM and logged back in. I received another message from facebook - this time the website informed me that I had been blocked from posting content for 24 hours since it was my second offense.

Observe:


I thought that since facebook was in a deleting mood, I would check on a group that was calling for the death of Miss Elmahdy. I had seen it the night before and wanted to see if it was still online and active. Sure enough, it was.

Screen shot of the very despicable, evil group (you will note the noose by her):

Translation of the group's title from translate.google.com (online translators are far from perfect, but you can certainly get the gist of it):


They deleted my photo because it violated their "Statement of Rights and Responsibilities", but they continue to allow the group calling for Aliaa's death to remain online. Per facebook, calling for someone's death ain't as bad as a naked photo (which is a 100% social/political statement). Priorities, huh?

I am not forever banned (being blocked from posting is the same as being banned) ... I should be back on facebook after 6:00 PM tomorrow (Monday). I will continue to monitor the situation concerning Aliaa.



UPDATE (November 20, 2011, just after 7:15 PM Eastern Time)

: Facebook finally deleted that atrocious group from their website ... after they dealt with the more pressing matter of my personal page of course.