Four American Presidents were born in the month of February. Three of them (George Washington, Abraham Lincoln and Ronald Reagan) enjoy great popularity today while one of them is largely known only by name, if that. William Henry Harrison, of the Whig Party, was born on February 9, 1773. There are plenty of books and websites should anyone wish to research Harrison so I will only list three facts about him: 1) He is known for having the shortest stay in the White House, a mere thirty-two days, 2) He is known for being the only Grandfather of a President (his Grandson was Benjamin Harrison) and 3) He had the great misfortune of living to see six out of his nine children pass away.

By the way, although the U.S. Mint's website currently does not have a release date for the William Harrison One Dollar Coin, it will certainly be in bank vaults this month. One online source references a date of February 19, 2009.

Below are some artifacts pertaining to and relating to William Henry Harrison.

Here are four Presidential Campaign Tokens from his successful "Log Cabin" Campaign of 1840 (note his nickname Tippecanoe on one of them as well as the overall variations):
Obverse (two views)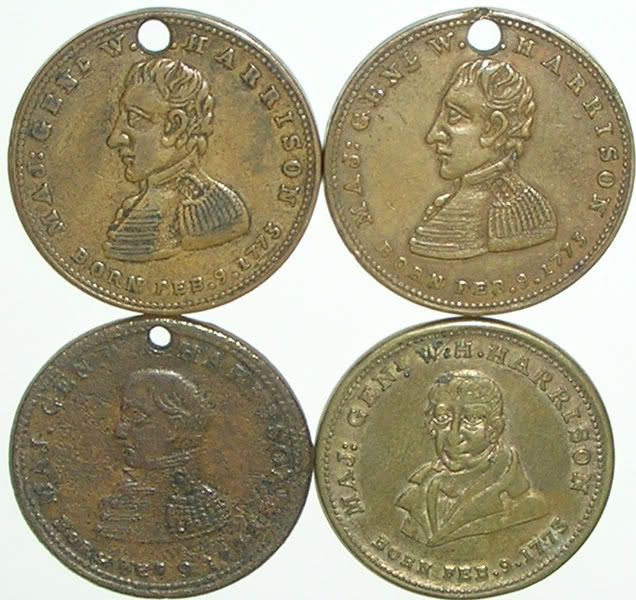 Reverse (two views)

A letter from March 18, 1887, signed by his Grandson, Benjamin, that makes reference to William as "Grand-father".

Close-up of the text

He did not wear a Wig, but he WAS a Whig! Happy Birthday to William Henry Harrison!!!
-----------------------------------------------------------------------------------------------------------