This is a very special day. Frank Woodruff Buckles, America's last surviving Veteran of World War One, and one of four remaining veterans world wide, turned 108 today. 60 million to 65 million people were involved with The Great War - now there are only four left ... one in America, one in Australia and two in Britain. Corporal Buckles was born on February 1, 1901 in Bethany, Missouri. He enlisted in the War in 1917. In 1919, he met General John Joseph "Black Jack" Pershing at the dedication of the National World War I Museum in Kansas City. He worked in Germany on and off in the 1920s and 1930s. In the 1940s, he was a POW for the Japanese in the Philippines. He has indeed led a full life having travelled around the globe for war, for work and for personal interest. He currently resides in West Virginia.

I had the great fortune of meeting Corporal Buckles one week ago. We had a wonderful conversation about a variety of topics including his World War I experiences, his meeting with General Pershing, being a POW in the 1940s, Germany, South America, artifacts, history and working out in addition to others, and shared a few laughs as well. His memory is excellent - he told me specific details about the 1910s and 1920s. He is fluent in four languages and we briefly spoke to each other in German. I showed him a picture of myself standing in the Giza Desert with the three Pyramids behind me. He said "Egypt ... I'd like to go there someday". Centenarian status should be of little concern for I believe he can still go there! It was a(n) unique and extraordinary opportunity, an enjoyable experience and an amazing day ... one I will never forget. In the years and decades to come, I will always look back on our meeting with great appreciation ... and a smile. Here's to you ... Frank W. Buckles, the last of the American Doughboys! Happy 108th Birthday and many more to follow!!

The photographs below are of a delighful cachet, an autographed portrait taken by David DeJonge for the World War One Education Project fundraiser and the two of us together on that wonderful day!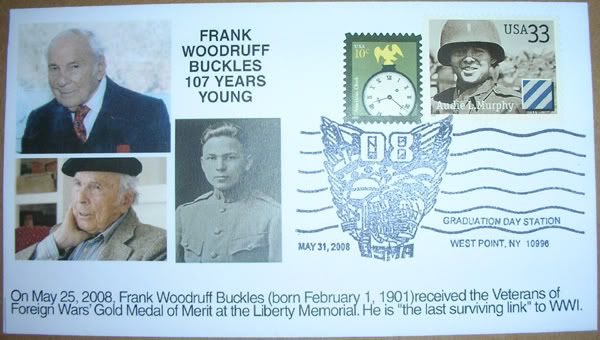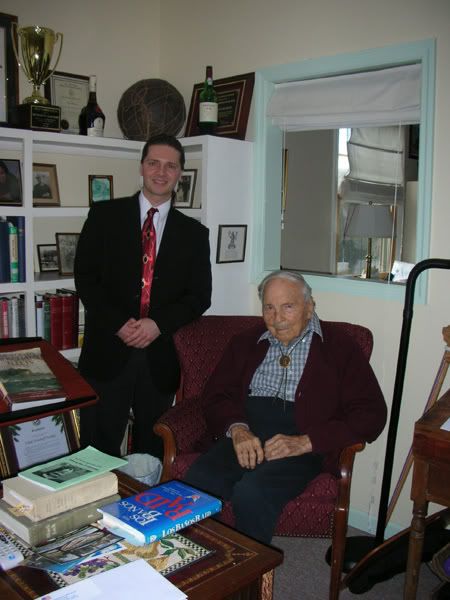 Links of interest:

http://www.frankbuckles.org/
http://lcweb2.loc.gov/diglib/vhp-stories/loc.natlib.afc2001001.01070
http://www.youtube.com/results?search_type=&search_query=Frank+Buckles&aq=f