Today is February 14 ... Valentine's Day. I finally break the streak of historic birthdays that have filled my blogs so far. For those you who are not aware, "Saint" Valentine was actually "decanonized" in 1955 and 1969 since the Bishop's actions and martyrdom have never been authenticated. Pertaining to a Saint or not, the day is still celebrated worldwide with cards, candy, balloons and hearts as opposed to any particular religious observance in most circles. When I went to Egypt in 2006, I saw people on the street with Valentine's gift bags and the like. Unfortunately in 2008, Saudi Arabian authorities demanded shop owners remove all Valentine's Day items as well as all items colored red including wrapping paper and flowers. There is actually a black market for roses in that country. Black market huh ... drugs, guns, illegally excavated antiquities and now roses. What next??? I hope all Valentine's Day revellers realize how well they have it.
Just this month, I procured some very nice scrap-type Valentine's Day cards - all nineteenth century and therefore all Victorian. These are the real deal. Almost all have been dated on the back by the original owners (Mamie Brown, Ethel Brown and someone named Lulu). Enjoy!
I wore my Valentine's Day Tie for this one!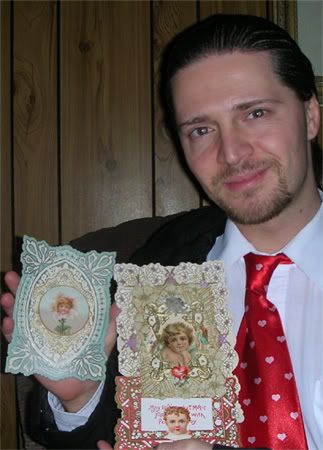 1886 - True love indeed ... take note of the lil' guy with the arrow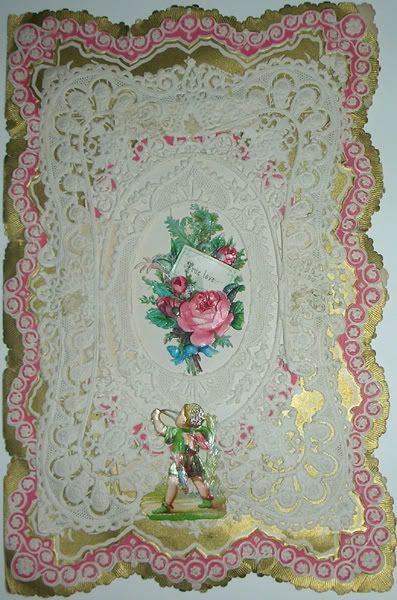 The inside - looks like it was made blank for a personal message, but someone pasted a note into it
Close-up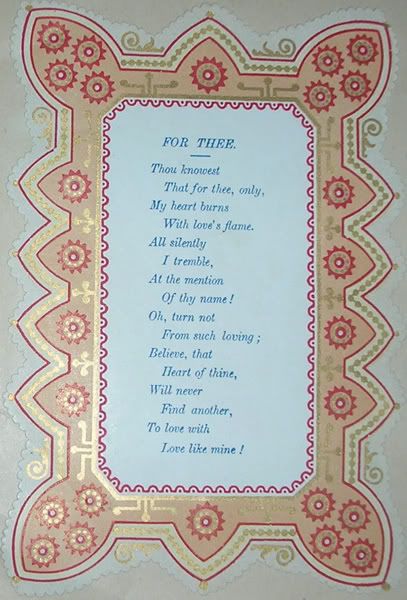 1889 - this apparently was made for ladies whose beaus were soldiers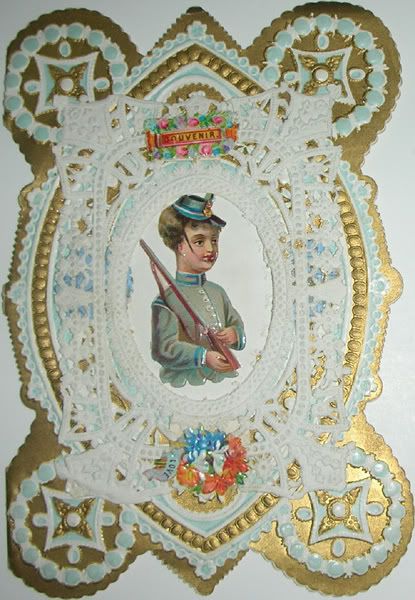 1893 - a loving couple

The inside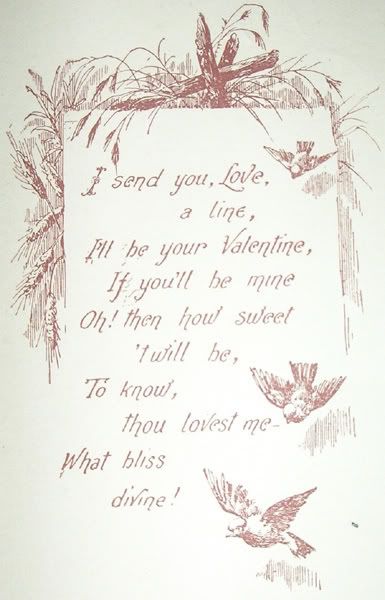 A delightful card dated 1894 (the text under the kid's head is "My Love's sweet Music Fill thy hearts with Peace and Joy")

A very interesting and unique example from 1895 - a girl's head in a flower! Occasionally one does in fact encounter such bizarre yet charming artwork from this era. All in all, a lovely specimen of Victoriana

As you can see from my repeated attempts, this was a difficult piece to photograph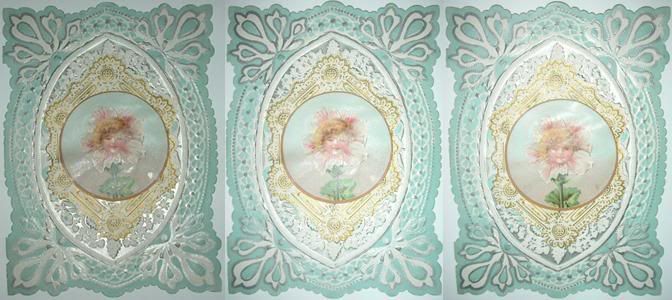 1895 - exquisite and intricate detail here
Close-up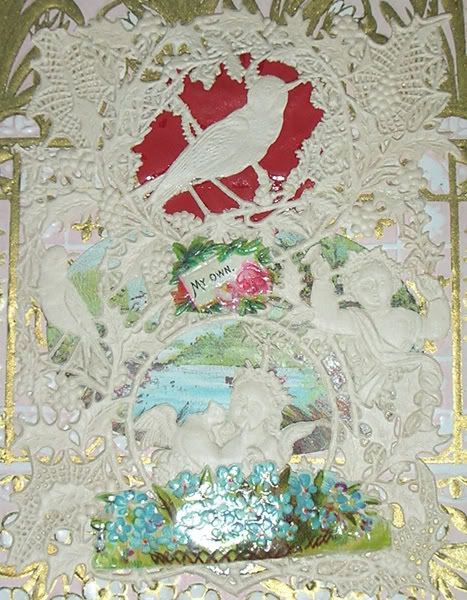 Unfortunately some damage to the one cherub - his head is gone!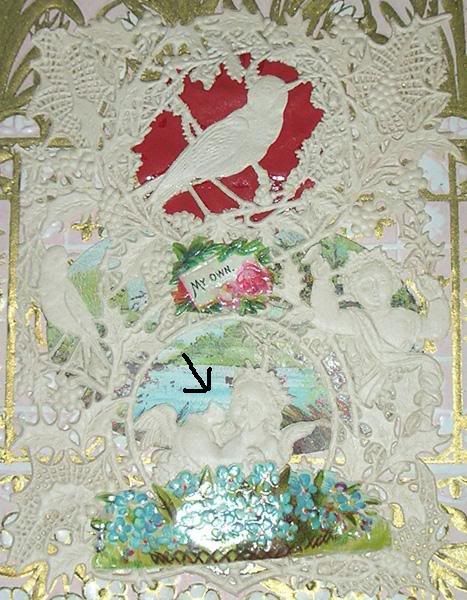 The inside
1897 - this is from the time when the Mozart-style look and characters of the eighteenth century made a brief comeback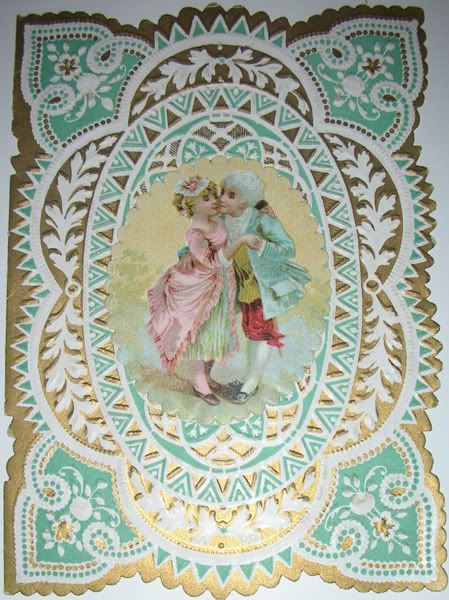 The inside

Last and certainly not least - behold ... the love, the passion and the devotion explicit in the craftsmanship ... the epitome of Victorian scrap right here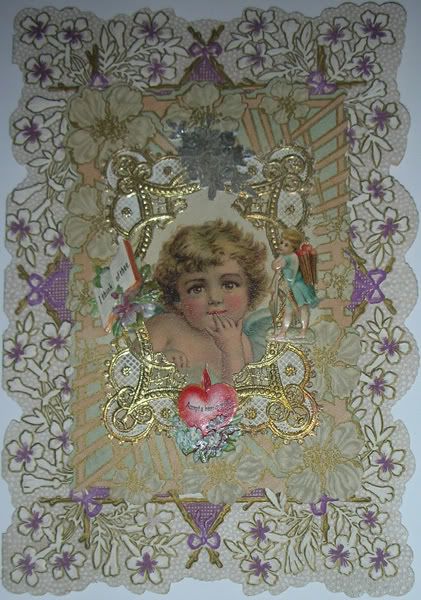 The card is undated and almost certainly so due to the fact that the postmarked envelope is present! 1899!! Embossed cover - very well made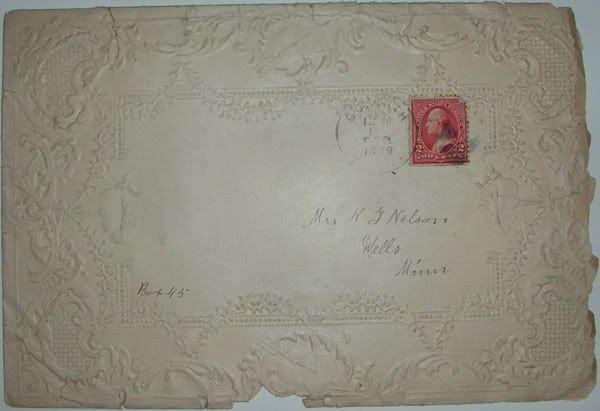 I hope to feature more antique and otherwise historic holiday items as the weeks and months approach!
---------------------------------------------------------------------------------------------