Today there were many events, presentations and celebrations pertaining to former President Abraham Lincoln and the 200th anniversary of his birth. One very special point of note is how the Library Of Congress has decided to bring out a few items in honor of Lincoln's bicentennial that are usually kept hidden. For Abe's 200th birthday I felt motivated to post some Lincoln-related pieces of memorabilia that the public rarely, if ever, gets to see ... I dug into the vault and pulled out some fine items: postcards, first day covers, newspapers, campaign tokens, a fragment of his home, a note from a Veteran who claims to have met him and even a sample of his handwriting ... ALL ORIGINAL - no reproductions or forgeries here.
As far as I know no one bothered to make a big deal for his 50th birthday and why should they have considering he was still alive? People did make a big deal for his 100th and 150th celebrations and the first few items of the evening are postcards and FDC's from these years:
A postcard likely from 1909 - the stamp placed over the flag is certainly from 1909 (and an odd place to put a stamp ... definitely an eyesore)
This one is postmarked 1911, but it could very well have been produced two years prior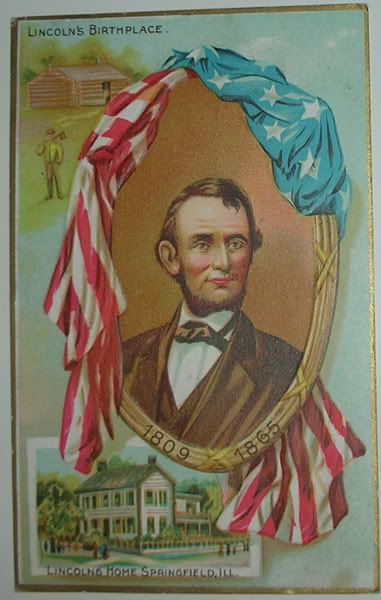 The following two FDC's were made in honor of his Sesquicentennial ...
1959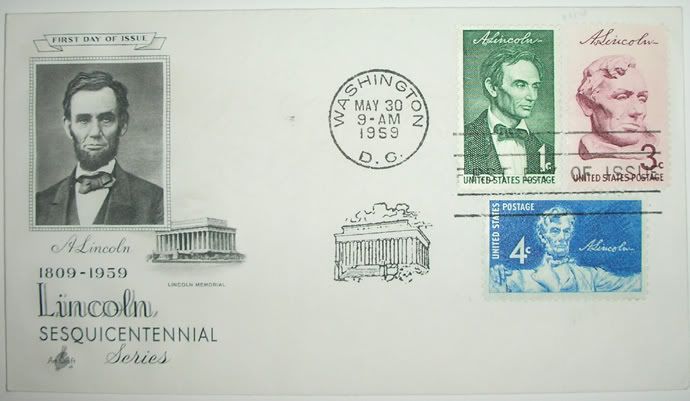 Now for a few pieces from the time Abe was still living ...
A newspaper from October 4, 1860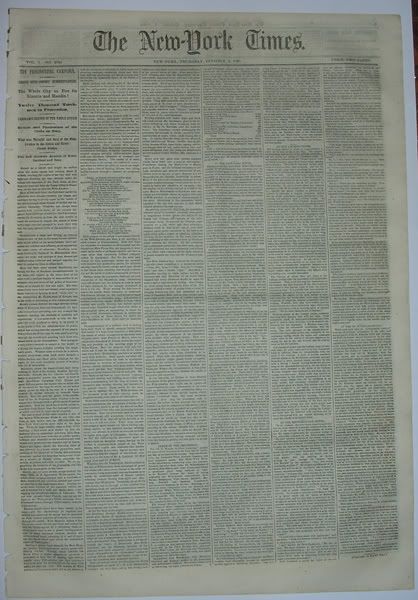 1860 Campaign ... Check out one of the headlines - "The Whole City on Fire for Lincoln and Hamlin!"
December 12, 1863
Lincoln's State Of The Union Address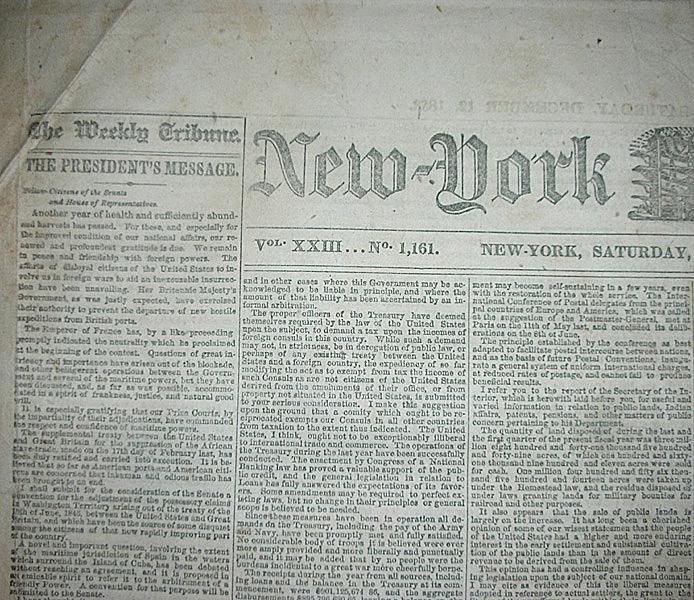 His name closing the speech and a reference to the Emancipation Proclamation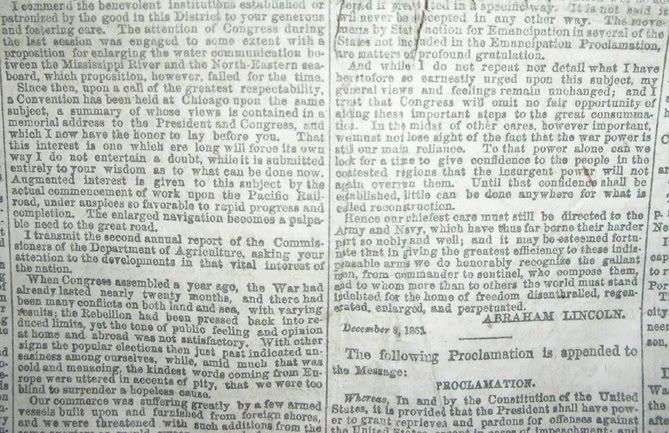 Now for some actual Campaign Tokens ...
1860 ... THE RAIL SPLITTER OF THE WEST ... as you can see this depicts Lincoln without a beard. The hole was made so a supporter could wear the token on a string
1864 ... Abe is "O.K."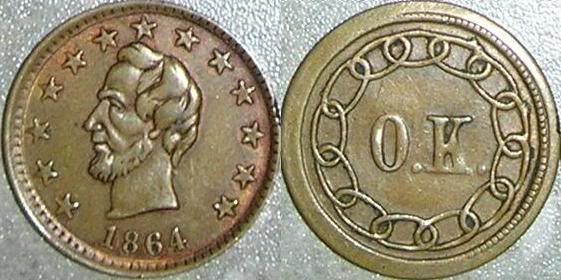 Here's an autographed note dated 1911 by a Civil War Vet named W.D. Davis ... Davis claims he shook Lincoln's hand!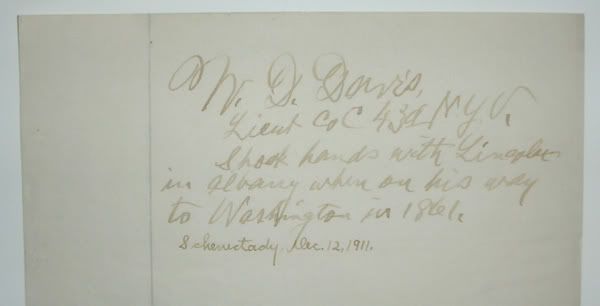 A small brick fragment that was once part of his home
Finally, a fragment from a letter written by Abraham Lincoln himself ... the entire document was once owned by renowned collector Henry E. Luhrs ... it was also housed in The Lincoln Library located in Shippensburg, PA ... then in February 2006 it was auctioned off by Heritage Auction Galleries to someone who cut the document up in order to sell it as sample fragments so collectors could afford authentic Lincoln handwriting ... I know I am not able to afford a genuine letter or even a cut signature from Abe at present so this was right up my alley ... it is a concern that letters are being chopped up, but it was done. In any event, here is the word "were"
The library's authentication and transcription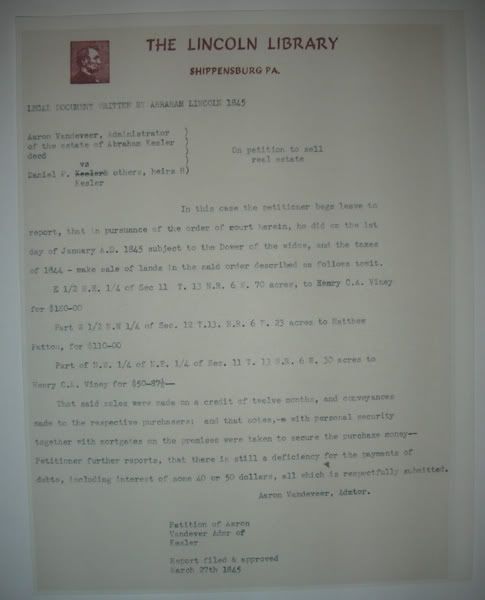 A photocopy of the entire letter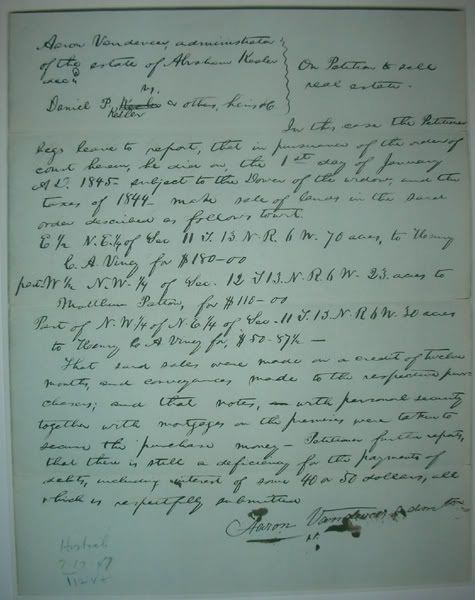 The original clipping (placed on the bottom right) on top of the photocopy ... the word "were" is found on line five from the bottom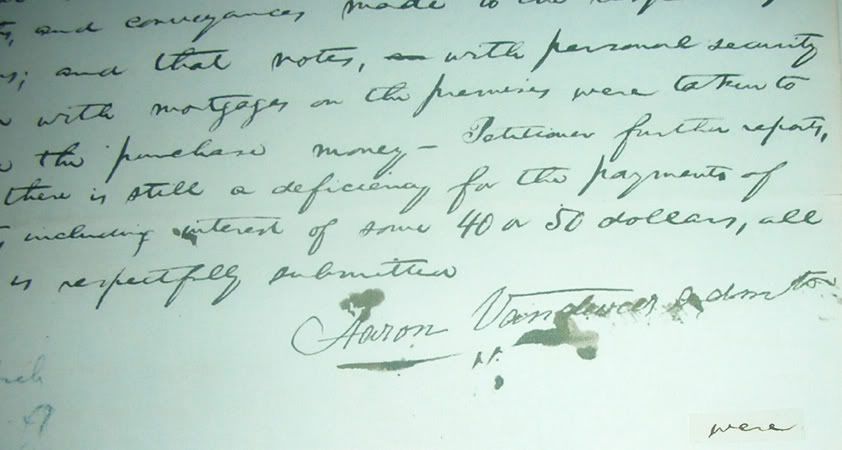 I hope all of you enjoyed this unique opportunity to view artifacts pertaining to, and, some, contemporaneous to, the time Abraham Lincoln lived on this planet. I am YOUR Portal To The Past!
----------------------------------------------------------------------------------------------